I have switched from Harley to Indian, Part 1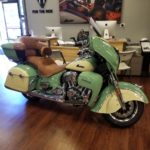 I have been riding Harley-Davidson motorcycles for quite some time, off and on, for over 30 years. My present bike is a 2008, Harley-Davidson Electra glide Ultra – Classic, which is for sale, and that you can see in the article directly below this.
I decided to take a look at obtaining a new motorcycle, partly because I wanted to see what new technology was out there.
I finally narrowed down my search to two possible motorcycles, a 2017 Harley-Davidson Ultra – Limited, and an Indian Roadmaster.
In my research, I discovered that the 2017 Harley-Davidson Ultra – Limited had the new Milwaukee 8 motor, which has water-cooled heads, which means it runs months cooler than the current motorcycle that I have, has 11 more cc inches of power than I have now, a redesigned engine mount which lessens vibrations, a redesigned fairing which is said to be more stable, updated hard saddlebags, and an updated head unit with Bluetooth capability.
Frankly, I did not like any of the color schemes that came with the Harley-Davidson Ultra – Limited. With a motor cycle manufacturer such as Harley-Davidson, I would've expected more choices, or even custom options.
If I chose to get the Harley-Davidson, it would basically be getting the same motorcycle I have had for the past 12 years, with an updated engine, fairing, stereo, and saddlebag openers.
In my mind, there is no way to justify paying approximately $30,000 for an updated Harley just because of the few things mentioned above.
When I looked at the Indian motorcycles, frankly I was very surprised to see how far they'd come. The Indian motorcycles in this class have a 111 c.c. motor which is called the ThunderStroke. It puts out 119.6 foot-pounds of torque, and has approximately 90 hp. Although it is air cooled like the old Harleys, and heats up like the old Harleys, this engine is a beast, trust me it has some punch, it is fast.
Further, when I looked at the Indian Roadmaster, I saw many built-in features that would cost thousands of dollars to get on a Harley-Davidson as add on extras.
The head unit on the Indian is incredible, it has GPS built in, a much bigger screen, and shows you all engine functions, including a multi-function display, right on the front bike.
Basically, the Indian Roadmaster is a beautiful bike.
Lucky man that I am, when my fiancé found out that I liked the Indian Roadmaster, she decided to buy one, for me to ride, with the only condition that she be the only female I allow the back. Of course, I …read more
See full article at : JfUPr